Hiking

Newfoundlands often enjoy hiking, because it's usually done at a slower pace, and of course new terrain brings new scents. A newf is a long distance runner, not a fast sprinter. New terrain also brings about new challenges, they have to alert continuously and watch out for possible sharp rocks or holes in the ground. When hiking, the dog isn't allowed to jump around and run it's energy supply to the end at the start, because there's still a long way to go..
New smells, physical barriers and the constant alertness eat away the dogs energy supply much more quickly than you could even imagine. Therefore, when you're planning to go on a hiking trip, remember to take breaks much more often than usual. Keep an eye on the dog.
NB! In a new environment, dogs don't usually show their tiredness, because if they were in a wolf pack, they would be left behind at the sign of weakness. So; If you see any signs of tiredness; clumsyness, sitting down etc. , you know your dog is extremely tired and needs rest.
We enjoy hiking, because it's quality-time with the dogs. It's great to see how much they trust us. They go over fallen trees, jump down steep rocky paths.. and will follow us anywhere without a blink. Normally we harness the dogs with backpacks, in which they carry their own water and food. Remember not to pack it too heavy! Even only a few pounds will make it much more difficult for the dog. Start slow!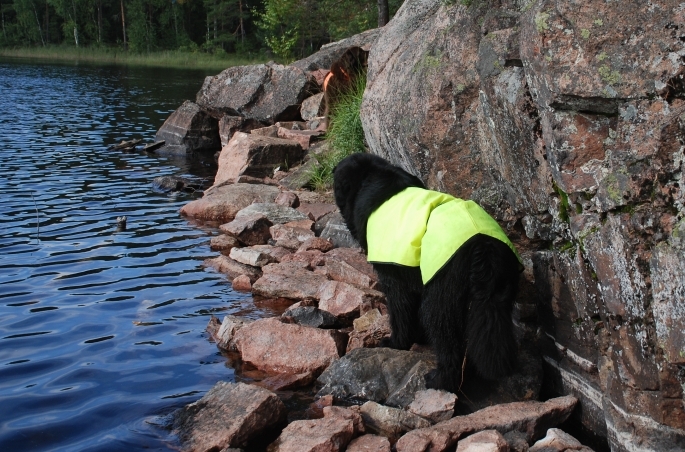 Vera going over some rocks to get back onto the path, summer -08
Events:
Hiking trip in Finland (Repoveden kansallispuito) in summer 2008