Capri, Vera, Merita, Ruuti, Scout



Kennel Kivisilmän:


We breed Newfoundlands under the kennel name Kivisilmän (2008-). Watercubs (2006-) is a collective name we group ourselves and all our dogs under (Larinkallion girls, Kivisilmän pups and Data-pug). Our aim is to breed healthy, active, beautiful, physically and mentally sound working dogs. While our Newfoundlands are active working dogs, due to their sound structures, they also excel at conformation shows.
Our breeding decisions are heavily based on preserving the working instinct that has justly made the breed famous. The goal is not to just breed dogs for today and tomorrow, but to create a healthy and stable lineage that will benefit the breed in the decades to come.

Words that describe our breeding ideal:
- healthy, longevity, sound
- obedient, handler motivated, enthusiastic worker, good working drive, team worker
- confident, decisive, curious, reliable
- active, good physical condition, muscled, strong, balanced and robust structure, ease of movement, good swimmer, enthusiastic, dog and people friendly

Our ideal Newfoundland is big-boned and has a balanced structure. The dog must work on instinct, but be able to listen and obey commands when these are given by the handler. The temperament should also be balanced and calm when inside, but the dog should be active and energetic, and have a desire to please when outside.


Our history:

We came across the Newfoundland breed for the first time in a dog book in 2000. After some long discussions, we decided to find out more about the breed, and in spring 2003, we got our first Newfoundland, Capri (CIB, FI, SE CH, EUVV-11, Belgian Canine Lifeguard Larinkallion Brysselinblicca).
We started working with Capri during the first year by going to conformation shows, obedience classes and waterwork. To this day we have successfully competed with our dogs in waterwork, obedience, rally obedience, draft and conformation shows in fourteen different countries across Europe.

Our dogs live, move and travel with us. They are a part of our family and congregate under the same roof during our holidays. The dogs are divided into three homes within the family so that individual time and working possibilities are maximized with each one. We actively participate in waterwork, shows and obedience. However draft, hikes and nose work are also a part of our yearly hobbies. Currently at home we have Ruuti (LUX, EE CH Kivisilman Monitoimikone), Merita (EE CH & LUX J CH & International and Belgian Lifesaving Federation Canine Lifeguard Kivisilman Rutikuiva RLEx1, RLEx2), Baron (CIB & LUX & SE & EE & FI CH & BVW-17, BVWBE-17 Kivisilman Muskettisoturi), Tesla (Kivisilman Yleisurheilija) and Data-pug (Tarragem Haley Hurricane). Capri and her daughter Vera (FI, SE, EE CH, Belgian Canine Lifeguard Larinkallion Huomiongohde) have sadly passed away to greater waterwork waters.

We also have one co-owned dog Pärsky (Kivisilmän Zalmiakki). Ariel (EE J CH Kivisilman Salapoliisi) was previously co-owned and has been used for breeding. Thelma (K. Vompatti), Maia (K. Vesihiisi), Joki (K. Neliveto) and Scout (K. Navigaattori) were previously co-owned, but who we did not use for breeding. Having co-owned dogs gives us the opportunity to continue our line and breed future litters, while limiting the amount of dogs living with us, thus allowing us the time to work with our own dogs individually. Also as we are not only limited to using the few dogs that live with us, the co-owned dogs enable us to be more selective and not use any dogs that do not meet our breeding criteria. We are always looking for new co-owned families who have the same ideology as us for promising female puppies.

Our Litters:

We bred our first litter with Pertti Hartman (Larinkallion H-litter). Under the name Kivisilmän, we have bred 8 litters (M-, N-, R-, S-, T-, V-, Y- and Z- litters). We have fed raw since 2007.
Depending on the timing and our litter plans, people and families may need to wait for a puppy for several years, but it gives us the opportunity to get to know our new puppy owners better and not place a dog with someone who wants one "immediately". Our puppies have grown up to be water rescue dogs, therapy dogs and service dogs. Many from our litters also participate in conformation shows, some live with other breeders. We have exported puppies to USA, Belgium, Finland, France, Germany, Italy and Hungary.

Our criteria for breeding is very strict. The first question we always ask ourselves is "would we want to keep one of the puppies?". If the answer is "no", the litter is not made. A litter should never be just a "compromise" but it must be decision that we are proud of. We do not see a reason to breed numbers and therefore we never repeat combinations. Our breeding decisions are also affected by our professions. Virva-Riitta is a doctor, Annina is a veterinary physiotherapist and Bettina is a veterinarian.

Our breeding decisions are influenced strongly by science and statistics. Behind each litter there is always hours, weeks, months and even years' worth of work in studying pedigrees and databases and going through health, temperament and structure data from every available information source. While no-one can breed on just statistics alone, it does give a good basis and information about successful breeding decisions. In our opinion no-one can breed with just intuition alone as even with the best eye for structure, it is impossible to see everything that is happening beneath all that coat. When research into the pedigrees gives us the green light, we start thinking about whether that specific male suits the female that we are about to breed. The dogs must complement each other in terms of temperament, structure and pedigree. We also travel to meet the sires before breeding whenever possible and we always keep our ears and eyes open to new sire possibilities.

With each litter, we aim to keep the genepool as diverse as possible and keep the longevity in our breeding lines. Longevity is often the best indicator for great health, structure and temperament. Our attention to longevity can be seen in our choice of males; e.g. the sire for our N-litter was 8+ years old at the time of breeding, S-litter's sire was 12 years old, and both were virile, active and healthy males. For our R-litter, we used a male from a working line in USA, whose sperm had been stored for 26 years. The decision was influenced by our desire to increase the genepool and breed towards working Newfoundlands.
We know the type of Newfoundland we want to breed and achieve, and hence all our very rough plans are always made at least 10 years forward rather than just thinking of what'll happen the next couple of years. However as new information is always available, our litter announcements are only set in stone just before breeding. It could be that a new bit of information will solidify or totally modify our litter plans. We also keep a personal database of information that helps our research and lineage evaluations. In this database we save pictures of dogs from different lineages, write down unconfirmed information, and any important facts that we have found. Our personal database allows us to come back to this important information even years after writing it first down. While we do not share this database with others as it also contains unconfirmed information, we are always open about sharing any confirmed facts and of course, any information about our own dogs and breedings. The most thorough answer can always be received by asking it directly.
Various seminars, waterwork training camps around the world, veterinary magazines, behavioural books and internet forums keep us up to date on the current Newfoundland population and any changes happening around us. We are always on the lookout for old Newfoundland books and magazines and keep these as a type of information bank for what the perfect Newfoundland should still be. We actively follow the breeding decisions made by other Newfoundland breeders and learn from every litter combination; also from the ones that we personally would not have made. The combinations give us invaluable information on what certain dogs or lineages produce. Breeding as a family allows us to discuss, analyze and evaluate all the information, as while we have the same goal of the perfect Newfoundland, each one of us has a distinct perspective and way of analysing the information to make an informed decision. A litter is never made without the full support of each one of us.

Working Newfoundlands:


A working Newfoundland's structure does not happen by chance, but it requires for the breeder to know and understand what a correct structure is for a working dog. We actively work with our dogs, especially in the water. As an example; Capri, Vera and Bettina are Official Belgian K9 Lifeguards, Vera and Al have successfully jumped out of a helicopter and Vera has also rescued a drowner from a sinking car. A good working dog is a dog that works well across all disciplines. It is important for a working dog to be healthy and have a strong and balanced structure. When the structure is balanced and healthy, the dog's physical appearance will also be great. However a beautiful outside appearance does not guarantee a healthy or good working structure under all the coat.
Working as obedience and rally obedience judges, and working in the water have given us an even clearer perspective of what we want from a working dog, both physically and temperamentally. While a breeder can get dogs that will succeed easily in obedience tests by breeding sharp and reactive dogs, this type of temperament is not typical for a Newfoundland and is undesirable. A Newfoundland should be able to remain calm in every possible situation and have nerves of steel. It should be dog and people friendly, a team worker, decisive, confident, curious and enthusiastic. The temperamental traits required of a solid working dog are well seen when working with the dog at long duration tasks. While a working Newfoundland should be easily motivated to work, it should not be nervous. A good working dog must be able to remain calm, even at a waterwork event.
The physical abilities of a working Newfoundland are also extremely important. If the ears are too big or positioned incorrectly, water will get into them. Very straight front angles and long necks will prevent powerful swimming against the waves and currents. Balance is as important in the temperament as it is in the structure of the dog. Each working dog has a specific structure that enables them to do the specific job they were bred for.

Because of our extensive working background, we understand the qualities needed for an excellent working dog. While our puppies' main purpose in life is to be loving pets, we want to maximise the dog's working potential and invest a lot in their puppyhood. The puppies are born in our home and live in our living room. We perform Battaglia handling on the puppies, get them used to visitors, take them on tram, metro and car rides, and to places such as markets, schools and the town before they leave us to go to their new families. This type of rearing and socialization maximises the puppies' ability to deal with new and thus increases their working potential.
We keep in touch with our puppy owners as it gives us valuable information about how successful our breedings have been and about the health of our lineages. It is always wonderful to hear how the pups are doing and how loved they are. As breeders, we love the joy the pups have brought to their families. It is always great that when we meet the pups again as adults, they still remember us!
Last words:

Kivisilmän dogs are first and foremost a part of our family, only after that do we consider them as working dogs or of their breeding potential.

If you see us, don't hesitate to come and talk to us. Let us get to know each other and hopefully become good friends!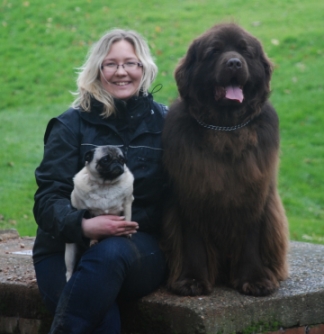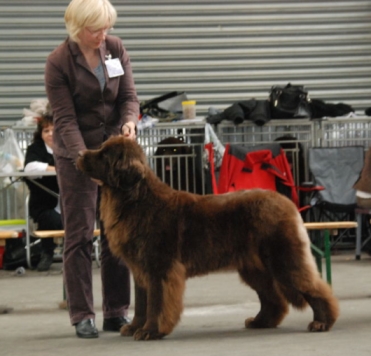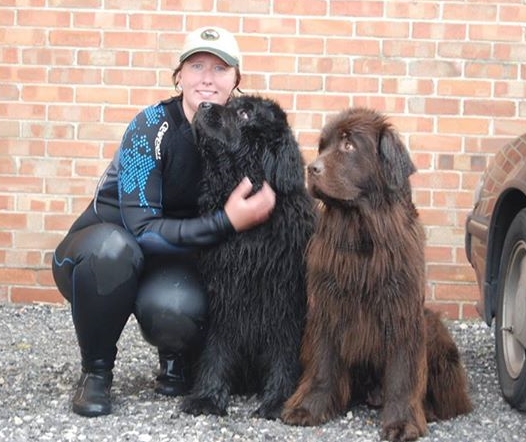 Annina with Baron and Data Virva-Riitta with Ruuti Bettina with Vera and Merita


Kennel Kivisilmän / Bettina Salmelin bettinasalmelin@hotmail.com
Kennel Watercubs / Annina & Virva-Riitta Salmelin
Avenue de l'Escrime 97, BE-1150 Brussels, Belgium
Rue de la Fontaine 83, F-11400 Laurabuc, France
Kivisilmäntie 428, 46230 Valkeala, Finland
Puh: +32 2 771 67 72
Fax: +32 2 771 53 36
Puppy enquiries and first contacts are preferred by email, due to busy family life.
If you have not received an answer in a few days, please contact us again.
Telephone enquiries are preferred between the hours of 17-20.
For puppy owners the phone lines are always open!

We understand and speak English, Finnish and French. Swedish and German can also be understood, but only in a written form.


Lectures and events hosted (o) and / or participated (p) in

October 2014 - National Association of Veterinary Physiotherapists Annual Conference 2014:
- How Effective is the Application of Massage in the Rehabilitation of Equine Spinal Cases, Halina Tombs (p)
- Research Presentation: The Use of Pulsed Electromagnetic Field Therapy (PEMFT) in Veterinary Physiotherapy Practice, Samantha Graves (p)
- To Stretch or not to Stretch, Sue Tracey (p)
- The Therapeutic and Practical Application of Massage and Stretching in the Post Operative Canine Patient, Jade Terry (p)
- The Physiological Effects of Myotherapy on Muscular Issues within the Canine Neck, Clare Holmes (p)
- Research Presentation: Investigation into the Relationship Between Chest Width and Myofascial Pain in the Girth of the Horse, Jemma Marsh (p)
October 2014 - UK Kennel Club Good Canine Citizen Bronze Level Examiner Course (p)
October 2014 - Veterinary Acupuncture, Samantha Lindley (p)
September 2014 - Doggedly Dependent: A Canine Story of Human Intervention and Form - Medical Detectives Lecture, Dr. Jeffrey Schoenebeck (p)
June 2014 - Water Rescue Training Camp, 2 days, USA WA, 2014 (o)
June 2014 - Water Rescue Problem Solving Workshop, USA TX, 2014 (o)
June 2014 - Waterwork camp, Multia, Finland, 2 days (o)
June 2014 - Grooming workshop, OR, USA 2014 (o)
March 2014 - Crufts:
- Common Canine Emergencies, Marc Abrahams (p)
- Assessing Muscular Stress Points through Posture, Julia Robertson (p)
- Developing Agility Instructing and Coaching in a Changing Sport, Mark Laker (p)
- Aggression – Bite Me!, Carolyn Menteith (p)
- Temperament Testing, Nathalie Ingham (p)
February 2014 - Association of Veterinary Students Congress 2014, 2 days (p)
December 2013 - Breeders Education Seminar, the Kennel Club, Glasgow, UK (p)
November 2013 - Advanced Canine Athlete Seminar 2 days, Manchester, UK (p)
September 2013 - Groomfest, Glasgow, UK (o)
August 2013 - Water rescue training evening lecture, Action dogs Ry, Inkoo, Finland (o)
August 2013 - Water rescue training camp 2 days, Action dogs Ry, Inkoo, Finland (o)
July 2013 - 3rd International water rescue training camp 3 days, Taavetti, Finland (o)
June 2013 - Water Rescue Training Camp 2 days - Texas (o)
June 2013 - Water Rescue Training Camp 2 days - Texas (o)
June 2013 - Water Rescue Training Camp 2 days - Kansas (o)
June 2013 - Water Rescue Training Camp 2 days - Kansas (o)
June 2013 - Water Rescue Training Camp - Seattle (o)
June 2013 - Water Rescue Trainings, week - San Juan Islands (o)
June 2013 - Water Rescue Training Camp 3 days - Colorado (o)
March 2013 - Crufts:
- Rearing a guide dog litter, Wendy Adams & Caroline Peacock (p)
- Coaching skills: The Canine Athlete, Steve Croxford (p)
- The common stress points of a working dog, Julia Robertson (p)
February 2013 - Association of Veterinary Students Congress 2013, 2 days (p)
September 2012 - Annual General Meeting 2 days, Pet Dog Trainers Europe, Glasgow, UK (p)
September 2012 - International Lifesaving Federation K9 water rescue team instructors course, 1 week, Belgium (p)
July 2012 - Tottelevaisuusseminaari 1 (Obedience Seminar 1), Anu Vehviläinen (p)
June 2012 - Water Rescue Training Camp 2 days - Portland (o)
June 2012- Water Rescue Training Camp 2 days - Michigan (o)
April 2012 - International Water Rescue Training Camp, New Zealand (o)
July 2011 - 2nd International Water Rescue Training Camp - Finland (o)
July 2011 - Water Rescue Camp, week, Estonia (o / p)
April 2011 - Instructors course, 4 days, Italy (p)
March 2011 - Obedience Regulations and Judging Procedure Seminar (p)
March 2011 - Obedience Test Design and Practice Seminar (p)
February 2011 - Rally obedience judging seminar levels 1+2 (p)
January 2011 Rally obedience taster session (p)
Autumn 2010 - Newfoundland judging seminar, UK (p)
November 2010 - Grooming seminar - Penny Shubert & Umberto Lehman, UK (p)
July 2010 - Waterwork trainings, Imatra (o)
July 2010 - Water Rescue Camp, 1 week, Estonia (p)
May 2010 - International Waterwork Meeting 3 days, Dienville, France
July 2009 - Grooming seminar, Finland (o)
July 2009 - 1st International Water Rescue Training Camp 3 days, Finland (o)
July 2008 - Grooming seminar, Finland (o)
February 2008 - Kennel Club's Breeders Course 2 days, Finland (p)
October 2006 - Basic Boat Driver diploma, Vlaamse Reddingscentrale, Belgium (p)
Spring 2006 - Club obedience test, Belgium (o / p)
Spring 2006 - First Aid, Basic Life support, Automated External de-fibrillation certificates, European Resuscitation Council, Belgium (p)
Spring 2005 - Club obedience test, Belgium (o / p)
August 2005 - Newfoundland club's camp 2 days, Finland (p)
August 2004 - Landseer club's waterwork camp 2 days, Finland (p)
August 2003 - Landseer club's waterwork camp 2 days, Finland (p)