About us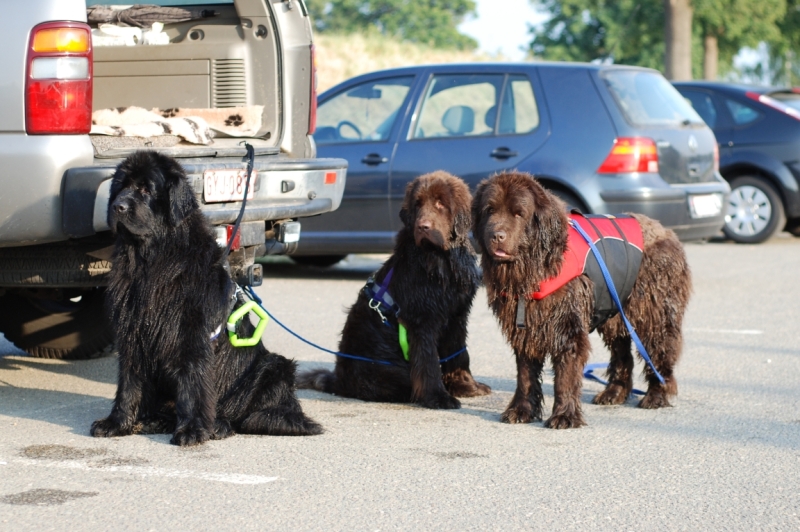 Vera, Ruuti and Capri in spring 2009


We breed Newfoundlands under the kennel name Kivisilmän (2008-). Watercubs (2006-) is our training group name, which includes all our dogs (Larinkallion girls, Kivisilmän pups and Data-pug).
Our litters are born in Belgium, and registered to the Finnish Kennel Club under the prefix Kivisilmän. We aim to breed active, beautiful and most of all healthy working dogs. Our goal is to maintain the water rescue instinct, which has justly made the breed famous. If a Newfoundland cannot swim without being taught or cannot function in water, the breeding has gone severely wrong. Not being able to work effectively in water may be due to many different reasons such as deficiencies or exaggeration of structural parts, or the wrong type of coat. If the ears are too big or positioned wrong, water will get into them. Very straight front angles and long necks will prevent powerful swimming against the waves and currents.
An ideal Newfoundland is big boned and structurally balanced and sound. It has to be able to function by relying on the breed's typical water saving instincts, but still listen and obey the handler. The Newfoundlands character should be balanced and calm when inside, but active with an aim to please when outside.
We bred our first litter with Mr. Hartman, Larinkallion H-, in 2005. We have bred three litters under the prefix Kivisilmän (Kivisilmän M-, N- and R-litters). We are only a small kennel, having a litter approximately every two years. This is why the combinations are especially carefully thought through, only looking forward to maintain and improve the Newfoundlands we have. The best criteria for deciding on whether to breed is if we would keep one from the combination. If not, then the litter is not worth making. We occasionally have bitches co-owned, so that we do not have to keep such a large amount of dogs under the same roof. This is also very beneficial, because we can really choose only the best to breed with, not having the pressure to breed from all the newfoundlands we have.
We came across the Newfoundland breed for the first time in a dog book in 2000. The picture was beautiful and we decided to find out more about the breed. The maintenance of the thick double coat, drooling and the famous stubbornness kept us from getting one straight away. However, everything else was just what we were looking for, and in spring 2003, we got our first Newfoundland, Capri (CIB, FI, SE CH Larinkallion Brysselinblicca).
Most of the information about the breed we got from different breeders, dogbreedbooks and from our dogschool teacher. We actually participated in the dog school for over a year without a dog. We got to see different ways of teaching, their advantages and disadvantages, and being there without a dog we were able to take it all in. It was be very beneficial as we learned from others' mistakes how to teach and command dogs before we had our own to worry about.
Capri is the perfect dog, at least in our eyes. She is beautiful and smart, active, stubborn, dominant; the family's spoiled pet. When she was two years old, Capri had her first litter with Eros (Ursinus Velutus Vaya Con Dios), from which we kept one female, Vera (FI, SE, EE CH Larinkallion Huomiongohde). The other puppies moved to Finland and have participated in shows with success.
Even though Vera is Capri's puppy, her character is completely different. She is always happy, very active and sometimes acts a bit blonde. She loves to do everything and obeys without hesitation. Her great desire to please and high energy level make Vera an ideal working dog. She does not have Capri's stubbornness or dominance, which make Capri the more typical Newfoundland. Vera knows how to use her own position in our family to her advantage: after eating her share of the food, she gets more from Capri-mum. From her father, Vera has inherited her structural type and head shape.

We switched from kibble to to raw food in 2006, and we are never going back. The dogs enjoy the raw food much more and we have noticed that the dogs' activity level has increased a lot and their condition of their teeth improved.
In winter 2008, Ruuti (Kivisilmän Monitoimikone), Capri's daughter, joined our family from our first Kivisilmän litter with El (El Oso Pardo von Baywatch). The name Ruuti means gunpowder in finnish and we hope the name would be an omen and she would be a good working dog. The signs are good and she has already shown her skills in waterwork and obedience training; she learns quickly by watching the others. The whole litter is very much working orientated, as her sister Al (Kivisilmän Multimedia) works in Italy as a real rescue dog and her brother Baron (Kivisilmän Muskettisoturi) is also an active waterwork and obedience dog in Belgium.
During winter 2008, our family increased with the addition of a little pug-mascot Data (Tarragem Haley Hurricane). Data is a cheery little busybody, who fits our family perfectly. Ruuti and Data are the best of friends, and their size difference doesn't slow them down. Sometimes it feels like Data thinks she is one of the Newfs.
In winter 2009 our lovely Vera had a litter of 8 puppies with Poppe (Cle Bas Popeye), from which we have two gorgeous co-owned girls: Scout (Kivisilmän Navigaattori) and Joki (Kivisilmän Neliveto) living with their families close to us in Belgium. All the pups went to wonderful, loving families all over the world (Belgium, France, Germany, USA).
In summer 2011 Ruuti had her first litter with an exciting frozen litter from Manitou (Wee Lovett's Island of Manitou), a male born in 1984. Of the three puppies born Merita (Kivisilmän Rutikuiva) stayed with us and the two boys went to Finland and the USA.
Our dogs have been divided into more than one address, so that individual time and working possibilities are maximized with each one. The dogs are a part of our family, they always travel with us, where ever we go. They live with the family indoors and usually sleep in front of the doors, not letting anyone pass without them knowing. We participate actively in waterwork, conformations and obedience. Draft, long hikes and tracking are also in our 'working calendar', though not to the extent the former three are. We have also tried frisbee and doggydancing, but we only do them when we feel the dogs might like some variety.
We are part of the Finnish, English and Belgian Newfoundland clubs, the Finnish Pug Club, and the Finnish and English Kennel Clubs. We have attended the Finnish Kennel Club's Breeder's Course, the English Newfoundland Club's judging seminar, Penny Shubert Newfoundland Grooming seminar, Rally Obedience judging levels 1 and 2, the English Kennel Club's obedience judging seminar. Bettina Salmelin has also been a part of the Finnish Newfoundland Club's health committee since 2008. Bettina is currently studying veterinary medicine (BVMS MRCVS) at Edinburgh University (Royal (Dick) School of Veterinary Studies).

In 2009 Bettina Salmelin wrote a published Newfoundland book with Marika Mäntylä. Annina and Bettina Salmelin have organized unofficial obedience competitions (2005 + 2006) and International water rescue camps (2009 + 2011) and have been invited to lecture about draft training (2010, Estonia) and participate as instructors at water camps (2011, Estonia). Annina and Bettina are official UK obedience and rally obedience judges, with their first judging appointments scheduled for 2011 + 2012. Bettina Salmelin has also participated at SICS (Scuola Italiana Cani Salvataggio) helicopter water rescue trainings with Vera. It was filmed for Animal Planet Extraordinary Dogs Episode 1. In 2011 Capri and Vera became official 1* Water Rescue Dog Team - lifeguards with Bettina, an award certified by the Belgian Lifesaving Federation.
--

Kennel Kivisilmän / Bettina Salmelin bettinasalmelin@hotmail.com
A member of the Finnish Newfoundland Club's Health Committee

Kennel Watercubs / Annina & Virva-Riitta Salmelin
Avenue de l'Escrime 97, BE-1150 Brussels, Belgium
Rue de la Fontaine 83, F-11400 Laurabuc, France
Kivisilmäntie 428, 46230 Valkeala, Finland
Puh: +32 2 771 67 72
Fax: +32 2 771 53 36
Puppy enquiries and first contacts are preferred by email, due to busy family life.
If you have not received an answer in a few days, please contact us again.
Telephone enquiries are preferred between the hours of 17-20.
For puppy owners the phone lines are always open!

We understand and speak English, Finnish and French. Swedish and German can also be understood, but only in a written form.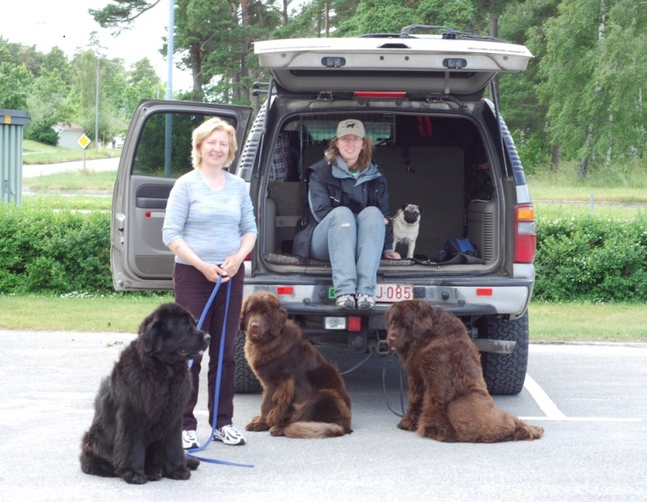 Vera, Virva-Riitta, Ruuti, Bettina, Data, Capri

If you see us, don't hesitate to come and talk to us. Let us get to know each other and hopefully become good friends!