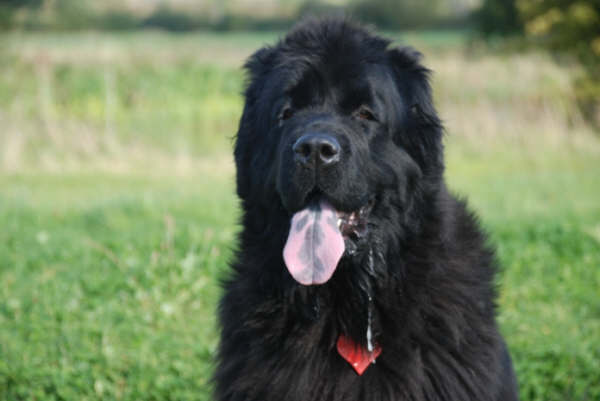 Finnish, Swedish, Estonian Champion
Larinkallion Huomiongohde "Vera"
(17.5.2005-29.08.2017 )

Canine Good Citizen: Bronze
Waterwork :BE level 1, UK level A & B, DE level 1, UK Veteran 1
Draft: UK level 1
Obedience: FI level 1
Shows CAC: FI, SE, LUX, FR, ESP, BE, EE, CH CACIB: BE, SE, EE

LITTERS:
Kivisilmän N- (b. 26.11.2009)
Vera is Capri's second puppy. It is said that the firstborne of the litter is always the most stubborn one, but in this case, it was the second.
Vera has all Capri's good characteristics, without the bad ones. She's even more active, though that was one criteria in choosing her. After all, all we wanted was a good working dog.
With Vera we have been to waterwork, shows and to dog school. Vera's personality matches well with her hobbies: full of energy whenever needed. She does waterwork like a pro. As a puppy she surprised us with her eagerness to swim in everything and everywhere she could get.
Vera hasn't got an endless stomach, but she eats everything she can get a hold of: jumps on the tables and steals what she can get a hold of. Everything from plastic to folios..
Our newfs have always been slow growers, and Vera is not an exception. At four years of age she grew a lot (and became more newf-like). Capri, her mother, was like this too and grew to be at her best only after her 5th birthday.
RESULTS: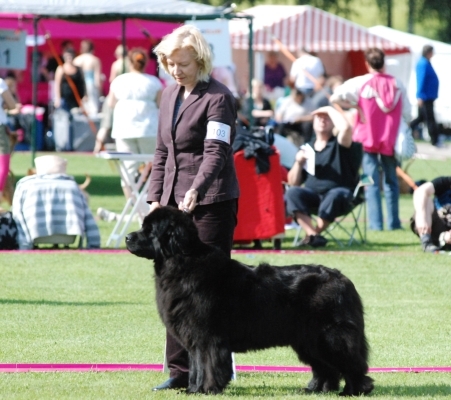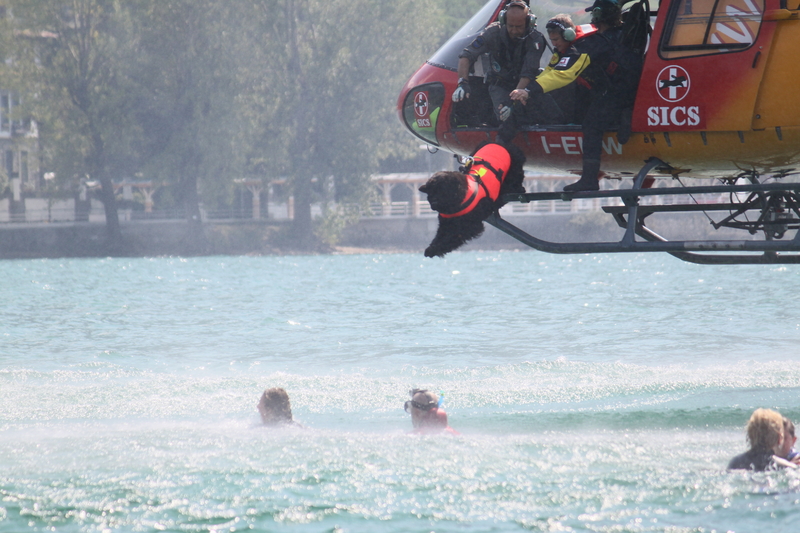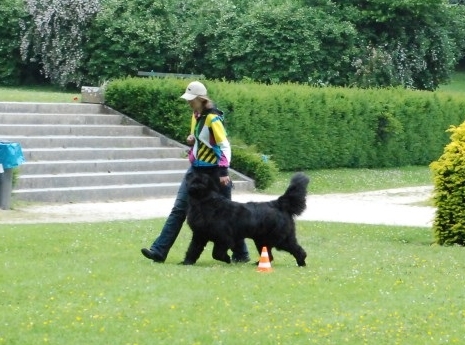 Vera summer 2009 Vera autumn 2010 Vera spring 2009
Shows Waterwork Obedience & Draught-tests

HEALTH:

Vera's been healthy, no skin problems (though she's had a few hotspots after a wash because she believes that eating the dog dryer is better than just looking from aside). Hope she stays as healthy as her mother.

Vera has always been very muscly and unlike her mother, she stays in excellent physical condition very easily. In our experience she also moves more more than your typical Newfoundland.


Heart : Healthy (ultra by doppler-technique -07)
Hips : D/D
Elbows : 0/0
Cystinuria : Free

PEDIGREE:
FI, SE, EE CH
Larinkallion Huomiongohde



HD:

D/D

ED:

0/0
heart: healthy
cystinuria: free


black, brown recessive

CIB, EUW-05, SLO

CH


Ursinus Velutus Vaya Con Dios
A 0
heart: healthy
cystinuria:

carrier

Pouch Cove's Just For Skipper's
A

/A 0/0

heart: healthy

AM, A, DE, INT MVA, WW-

Midnight Lady's Especially For You

A

/A 0/0

, OCD: healthy, heart: healthy

CAN MVA

Pouch Cove's Antares Arbitrage

HD: excellent, ED: normal

AM MVA

Main Tickle Frankli Speaking


HD: good; ED: normal

CAN MVA

Twillin Gate Persuader

HD: hyvä

MVA

Pow Wow's First Date of Skimeister

HD: fair, ED: normal

C.I.B

, FI, SE CH

Larinkallion Brysselinblicca

D/D 0/0
heart: healthy
cystinuria: free

Gasparo vom Kaninchenberg
D/D 0/0
EUSG99, WW-00, INT&AM CH SV-00, SV-01, A&ITA&BEL&S&FIN CH
Cayuga Ikemarshallofbonaventura

A/A, ED: normal

Yuma vom Riesrand A

/A 0/0 OCD:

terveet, sydän terve

FIN&EST&LV

CH

, LVV-00
Larinkallion Gateudengohde
D/D 0/O
CZE&DT&VDH SVK&FIN&CS& D CH
Egebaek's Indiana Jones B

/B

Larinkallion Geminorum Luna