Larinkallion H-litter

(b. 17.5.2005 - )

Our first litter we had with Capri (Larinkallion Brysselinblicca) and Eros (Ursinus Velutus Vaya Con Dios). 6 puppies were born (+1), of which 4 were black males and 2 black females (with the other having a small white spot on the chest). The puppies were registered under Pertti Hartman's kennel name, because, after all, Capri was our first dog and those our first puppies. I can't say that it was always easy, but definately rewarding.. especially now that we have seen what the puppies have grown up to be like.
The puppies were raised downstairs in our sauna-room, with one of us always with them for the first 3 weeks, after which they were big enough and the danger of Capri stepping, or lying down on them, was avoided. After that, the rest of the 5 weeks they spent in our livingroom, getting used to the backyard, tv, and ordinary family life with a few new admirers every day coming to pet them. All the puppies seemed and have grown up to be excellent family and work dogs. At the age of 8 weeks the puppies were flown to Finland (not in under, but up with the passangers), where they found their homes.


♂ Larinkallion Herrasmies "Paavo"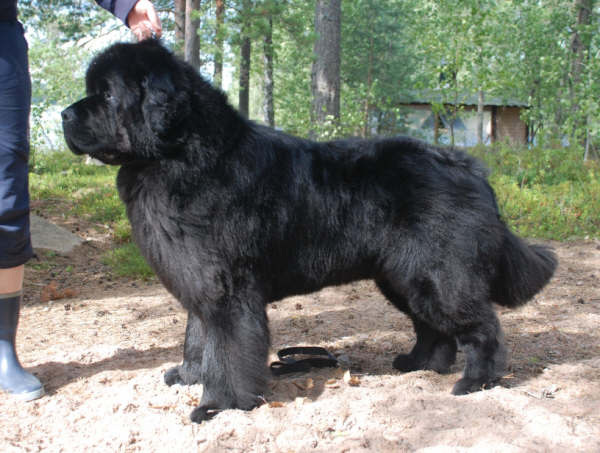 Paavo, Larinkallion Herrasmies is, just a his name tells, a real Gentleman. Paavo lives with his owner Jani in Kouvola. Paavo is smart and creative, and was just like that as a puppy. Paavo has some strange quirks though, he prefers kibble to cheese and meaty treats! As a puppy Paavo had some growth pains, probably due to excessive exercise, but they disappeared soon after and haven't reappeared since. Paavo has been healthy, not counting the few hotspots during the shedding period. Paavo has been always active on land and in water. Especially the water retrieve has been exciting (as long as it doesn't go too far!) It's never fun to leave the people, but as once out of the immedieate vicinity, and in the presence of two girls, it can happen. :-)
Paavo trusts strangers, which is always nice. This we noticed when Paavo accompanied us to Seinäjoki, the Finnish NF club's speciality show. He spent a long weekend with complete strangers and didn't say a word; acted as a perfect gentleman should. After the weekend, he was of course exhausted and slept the whole following week. :-) Paavo's been to two official shows; Kouvola and Seinäjoki.
In Kouvola he placed nicely second with very good. He didn't have any structural deficiencies, the only complaints were of nose wrinkles (does he even have them?) and the short coat (the hotspot area's fur was cut). At his second show, at the speciality he placed excellent third (out of 17 others, 5 with excellent)! Amazing! Paavo's brother (Hännänhuippu - Bamse) placed fifth with excellent at the same show and class. Their sister (Huomiongohde - Vera) placed excellent fifth from 22 others, 7 with excellent. Amazing result for H-litter!

♀ Larinkallion Huomiongohde "Vera"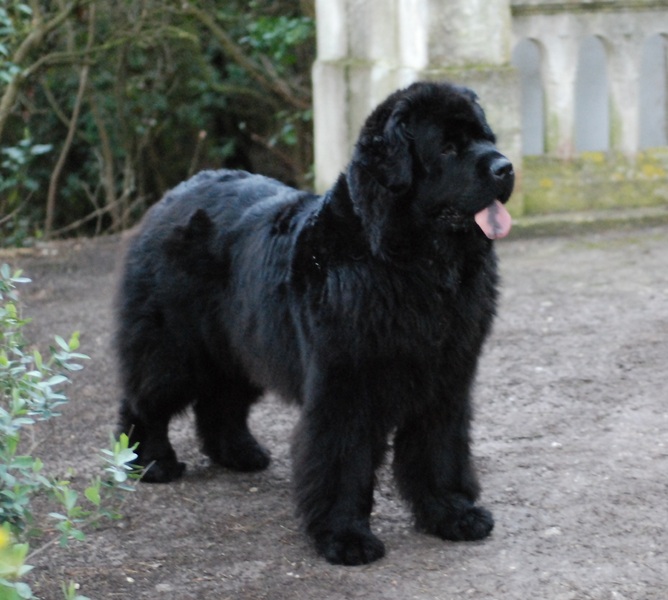 We decided to leave Vera with us, because she was the more active of the two females. She still is, and I don't regret the decision: she's a fantastic dog when it comes to obedience, learns from the first command and does everything trying to please us. She's very fond of water and pulls us whenever we get close to the lake where we train. She's also very beautiful, almost perfect I could say, although my opinion is biased. More about her on her own pages.

♀ Larinkallion Halinalle "Lotta"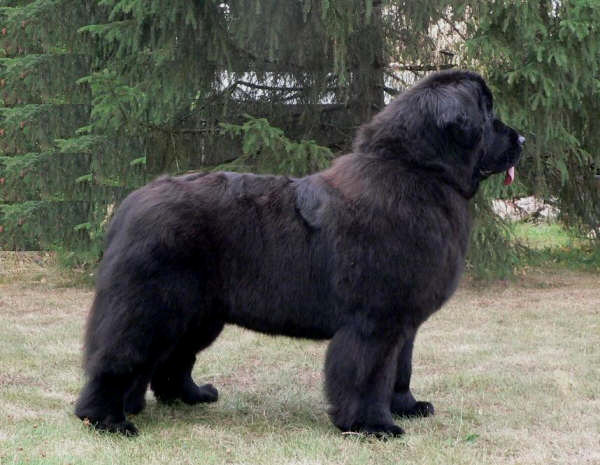 Lotta was from the beginning a real Princess with a capital letter. While Vera was playing with the "boys", Lotta sat there and watched them from aside. She now lives at kennel Halinalle in Kopsa, where she is treated as royalty should. :-) She has an enormous tongue, which always always makes an appearance in photos. :-) It is so long that even when given a treat, she takes her time eating it. The first step is always rolling the tongue back into the mouth. Despite the length it hasn't caused any eating problems because of the slight overbite; they cancel each other out.

Lotta has been to a few shows, where she's usually done well; she even got excellent at the Finnish NF speciality in 2006 due to her outstanding bone structure. She is a large sized, big boned bitch. She's even bigger than her brothers! Despite this, she's very active. She can't wait to go running. The first mile is always done in top speed, so that the bike struggles to keep up.

♂ Larinkallion Hurmuripoika "Justus"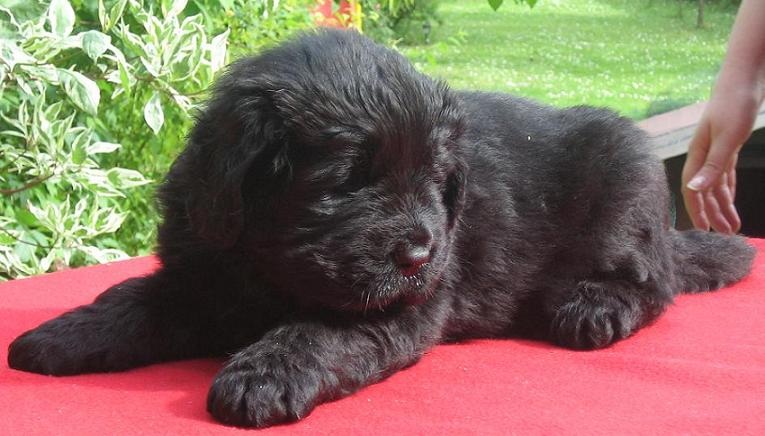 Justus lives with the family Sillsten in Forssa, Finland. He, too, is very active and can't wait to get outside!
He has been very healthy so far, with no skinproblems.

♂ Larinkallion Henkivartija "Paavo"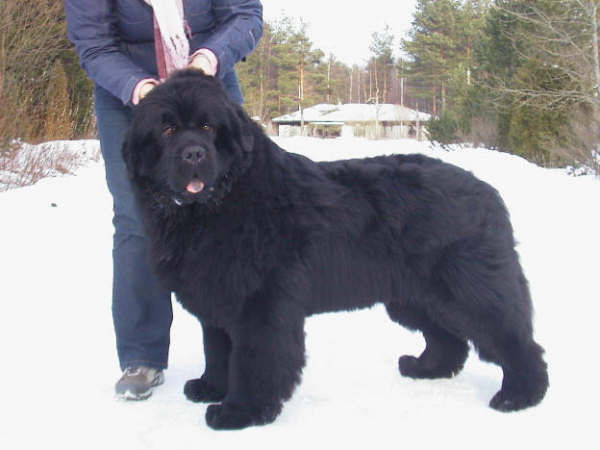 Paavo stayed with Pertti Hartman (kennel Larinkallion) for the first months of his life. Later on he moved close to Tampere to live with Brita Mäkelä, where he's been taken well care of. He was bought from Hartman to become a waterwork dog, not so much a showdog. He started his showcareer well, with winning his class and getting a RCAC and being BM4 at the finnish speciality show. Hopefully waterwork will start atleast half as well!

♂ Larinkallion Hännänhuippu "Bamse"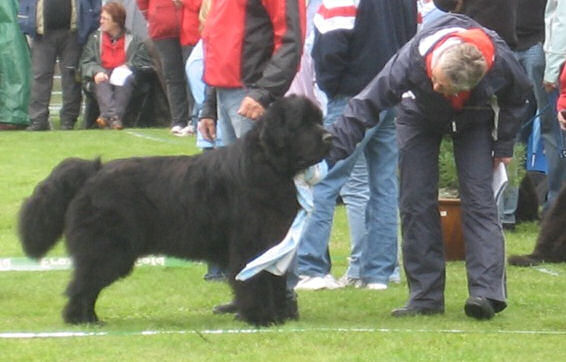 As a puppy, Bamse was always in the water; he enjoyed drinking, playing and even sleeping in it. You couldn't get him out of there! In their free time Bamse and his family usually go tenting. Despite him being very active, so far, he's been very well in it. :-)

Unfortunately Bamse has an allergy to processed food, meaning that he cannot eat any kibble. This means that he now BARFs. This has lead to amazing results with his coat and skin; shiny coat and no hotspots. In every other way Bamse has been healthy. His temperament is usually gentle; he likes everyone!

Bamse has done well in shows too. At Seinäjoki, at the newfoundland speciality he placed EXC 5th from 17 other males in open class (only 5 received EXC). Fantastic!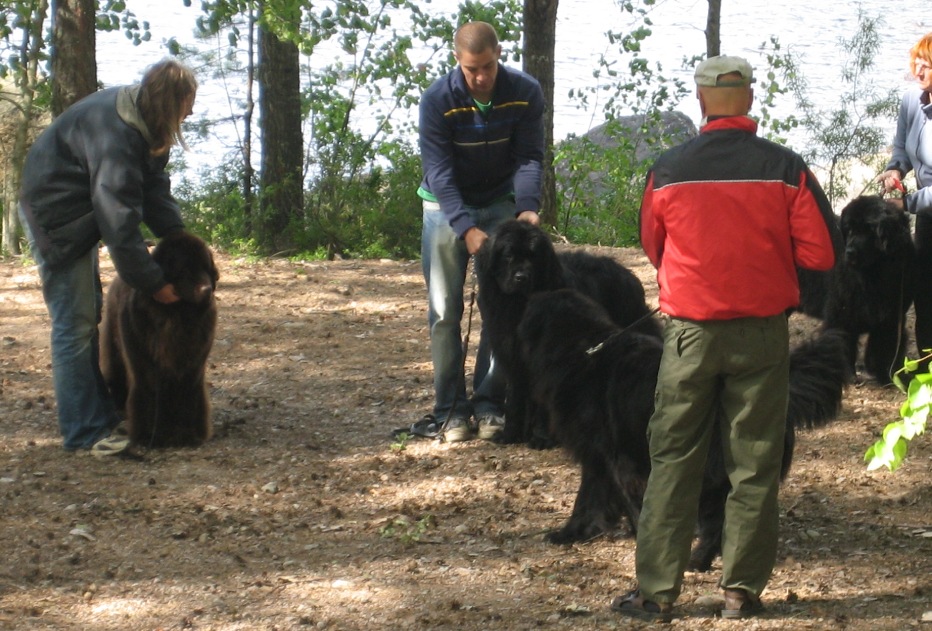 Larinkallion H-litter practicing showing at our summer cottage during a puppymeet