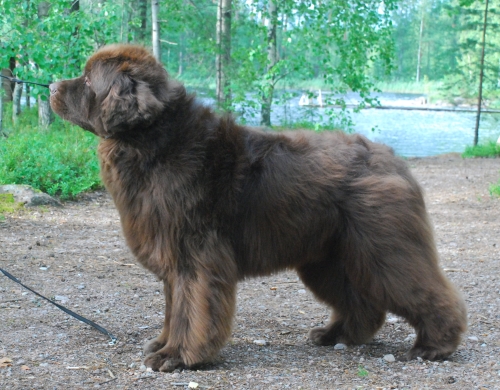 summer 2012

International, Estonian & Swedish & Luxembourg & Finnish Champion
Top 20 Newfoundland in Finland 2012

Baron - Kivisilmän Muskettisoturi
(23.11.2008- )

Waterwork: UK level A, Achievers Veteran, DE level A, EE level A & B
Shows CAC: FR, EE, SE, LUX, BE, FI CACIB: EE, SE, ES
Draft: UK Beginners
Obedience: UK level 1, UK Level 2

Baron in movement (spring 2014) (video)

LITTERS:
Flying Tail's C-litter (06.05.2015) (3 black boys, 3 brown boys) - Finland

RESULTS: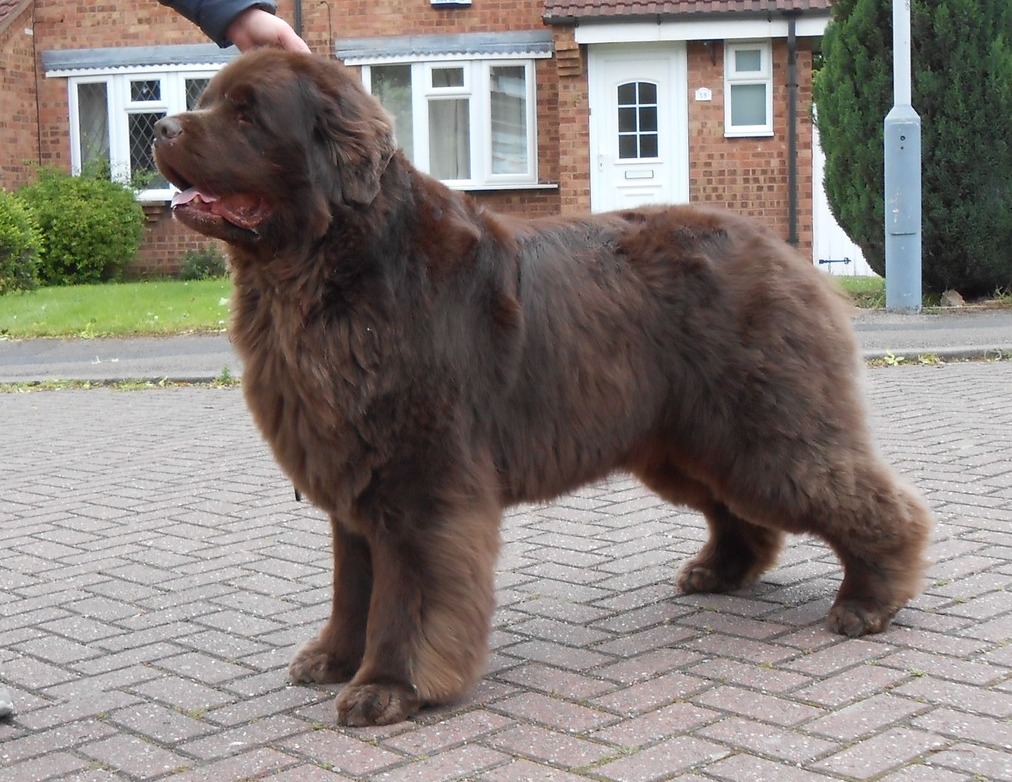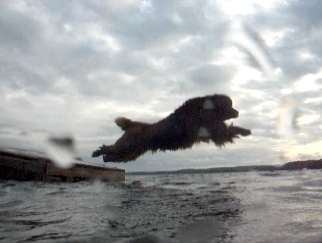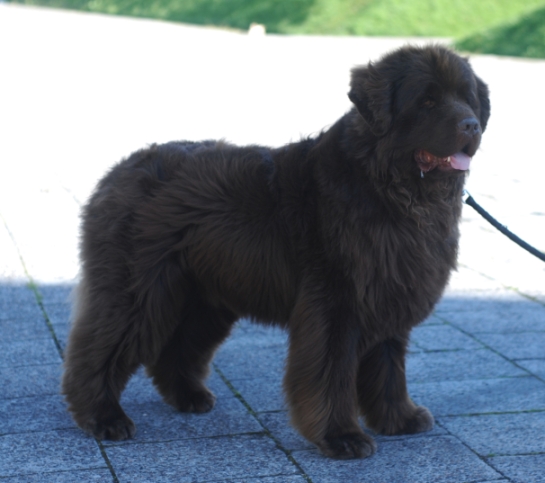 Baron spring 2014 Baron summer 2012 Baron summer 2012
HEALTH:

Baron is a very healthy, very active Newfoundland.
He has a good coat and good skin; we can leave him to dry on his own after waterwork. He does not have any allergies.


Heart

:

Healthy

(Echo doppler, summer 2012; Auscultation summer 2015)
Hips: A/A (official X-rays, autumn 2010
)
Elbows 0/0 (official X-rays, autumn 2010)
Knees: 0/0 (official test, summer 2012)
Colour (DNA tested): Brown, does not carry White&Black, does not carry Grey (bbSSDD)
Cystinuria: free
DNA identified

Baron's semen has been tested to be 95% motile (summer 2012) with about 1.7 billion per ejaculation. His semen has been stored frozen in Finland, Germany and USA for our own future use, but is available for use on request.

PEDIGREE:

Kivisilmän Muskettisoturi

A/A 0/0, knees 0/0
c

ystinuria: free


heart: healthy

El Oso Pardo von Baywatch

A/A 0/0
heart: healthy
cystinuria: free
Boradaile's Bifrost Beau
A/A 0/0
heart: healthy
cystinuria: free
Ironwoods R. Naish Ebontide

HD: hyvä, ED: normal

Boradaile's Shannon Brown

HD: fair, ED: normal, heart: healthy

Chanell No5 von Baywatch
A/A 0/0
heart: healthy
cystinuria: free
Bruder Ludvig Bar vom Gelderland

A/A,

heart: healthy

Angel von Freudenthal

A/A 0/0, heart: healthy

C.I.B

, FI, SE CH, EUVV-11


Belgian official K9 Lifeguard
Larinkallion Brysselinblicca


D/D 0/0
heart: healthy
cystinuria: free

Gasparo vom Kaninchenberg
D/D 0/0
Cayuga Ikemarshallofbonaventura

A/A, ED: normal

Yuma vom Riesrand A

/A 0/0 OCD:

healthy, heart: healthy

Larinkallion Gateudengohde
D/D 0/

0

Egebaek's Indiana Jones B

/B

Larinkallion Geminorum Luna