USA trip 2012

Annina and Bettina Salmelin started planning their USA trip months in advance, with the main purpose of meeting Judi & Ellis Adler (Sweetbay Newfoundlands) and their dogs again. To get some of the costs covered, they had the idea of incorporating waterwork trainings to the holiday. A two day waterwork camp, two private evening waterwork sessions and a grooming day afternoon were held in Oregon. They also had the opportunity to meet & train the now two-year-old Orka (K. Nostokurki) who Bettina had flown over two years ago to become Leska's service dog, and meet Diane from Pawsaquatic hydrotherapy centre and Sam Dravo from ENRG kayaking to discuss the possibilities of incorporating dogs and basic water rescue into kayaking courses and trainings. After finishing with the activities in Oregon, they flew to Michigan to meet the now year-old Chewbacca (K. Rapakontaa) during yet another water rescue camp, held via the South Central Newfoundland Club. All the events were sponsored by a New Zealand dog & horse natural shampoo Washbar.
--
As Annina and Bettina live close but not close enough, they booked flights conveniently to arrive at Seattle (WA) airport on Tuesday morning/day, only a few hours apart. Shuttling to a rental car facility, they rented a pre-booked car and headed towards Portland. The original plan had been to see the coast (Astoria, Cape Disappointment and the Famous Newf statues by the seaside) on Tuesday night, but due to the poor weather (drizzling and cloudy), they headed straight to the Motel 6 in Tualatin, Portland, OR for a good night's sleep. The few hour drive down went quickly although it took Bettina a few seconds to get used to the very sleekly moving brand new car, very unlike the twenty-year-old station wagon Volvo she usually uses. Luckily she's an experienced driver and the trip went smoothly (although Annina might very well disagree thinking back at the first twenty minutes!). Amazingly there were two Motel 6's one on either side of the road, and by a coin toss (now knowing that a dime is 10 cents!), they chose the right one, which ended up being the correct one. Checking in (very friendly staff!) we heard that someone had left a "present" in the room to welcome us to the city. Not knowing who it could have been, we were curious to find out… And this is what we opened our door to: a newfie stuffed toy with a very welcoming card, a present from Judi & Ellis Adler, as we found out from the card. Thank you! It was a wonderful welcome present!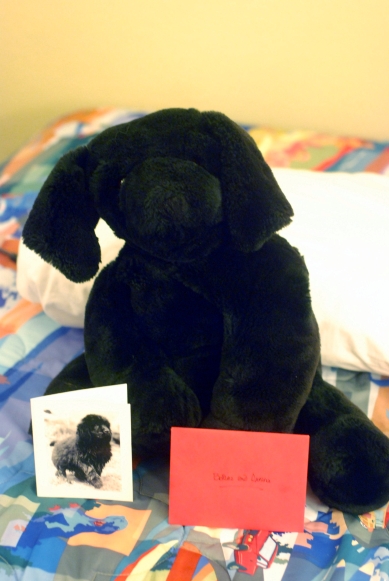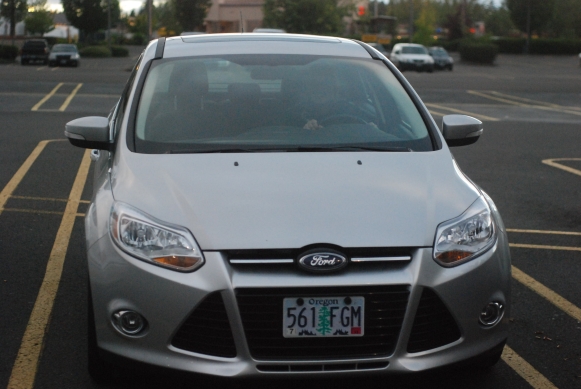 The surprise at our motel room - Bettina behind the steering wheel in a "compact" labelled parking spot - notice the double yellow lines for extra space!
After doing some shopping to fill our fridge, we put the alarm for 6AM to have the time to meet Orka before a day of shopping at pet stores. On arriving to Orka's house, it felt like no time had passed since two years ago when Bettina brought the puppies over. Orka ran to us and definitely remembered our voices and smells. He was happy to see us, though not as happy as we were, knowing that were up to something that morning with him ;-). Wednesday morning was training "take it" and "hold it" commands, showing Leska how to continue with Orka, and just working on grooming Orka's behind, something that he doesn't enjoy standing up for ;-). Everything else was combed out to perfection, so that was a quick visit.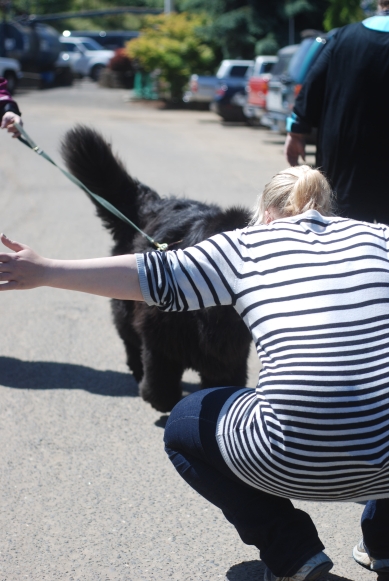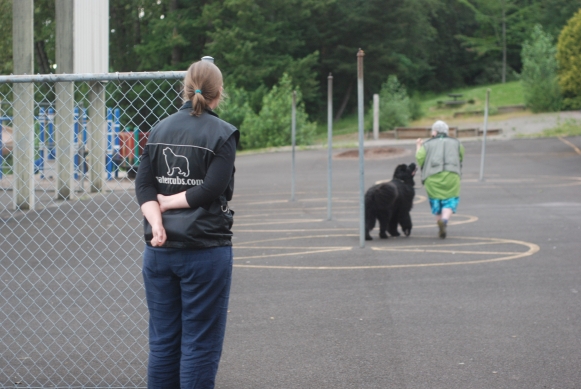 Annina & Orka greeting each other - Orka & Leska training heelwork while Bettina watches & Annina takes photos & comments
Getting clues to which petstores we should visit, we headed to for example Wilco, Petsmart, Western Pet Supplies, PetLodge and PetCo. Most of the toys and dog equipment were pretty much what we either already had at home, or what we could buy from Europe. There were some very interesting, intriguing toys though that we just Had To Get, for example some $3 squeeky water bottles, $5 bumpers, $5 toys that made the weirdest sounds: a lion that roars and a bird that tweets.. Data got some clever toys to keep her occupied, Baron got some toys he can (can't) destroy and the others just random toys we found. Data got a new Martha Stewart dog collar.. suits her well! We had a great morning scouting out the toy shelves. In the afternoon we were booked to hold a private water rescue session for a young very energetic newf Ben. Orka joined us for the trainings (brining the equipment) and a few others to audit to get a feeling of what we actually do in the water with the dogs. The session was mostly training just the important basic water exercises with the dogs. Everyone seemed very happy and interested in the trainings. Later that night the Ben's owner booked us for a second private session for Monday evening.
Thursday was scheduled to include a shopping trip at the US's biggest second hand book bookstore Powell's from where we brought home a big bunch of books. The sales assistant kept walking between "doing something important" and us, kept looking at our two baskets full of dog books until got talking as asking if we were working for a company and buying the books that. Nope, all for us :-D! He was great, talking to him we got to know that he's never seen anyone walk out of the store with So Many Books! All for us!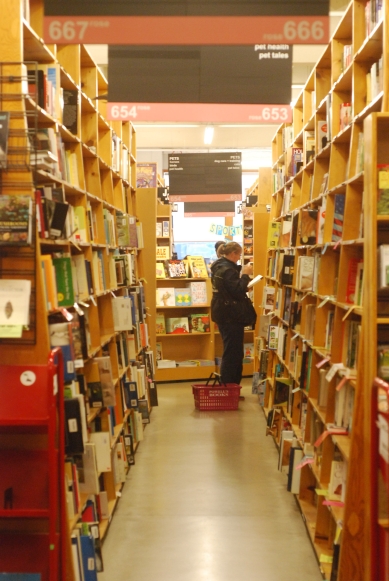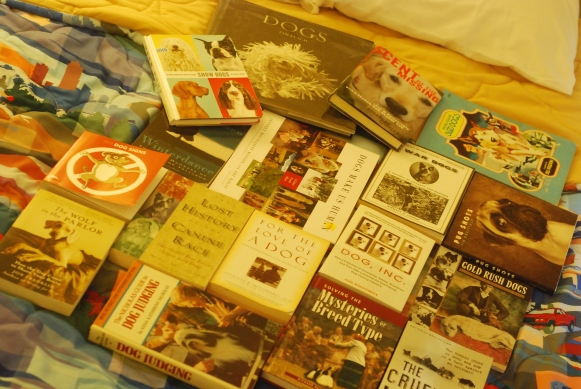 Powell's dog books section - some of the books we brought home
After the early morning Powell's visit we headed to Fido's indoor dog park. We got a tour of the facilities, which just emphasized our dream of setting up a dog rehabilitation / training centre / vet clinic / grooming facilies / dog boarding – maybe one day! After Fido's we headed to Orka's house to hold a grooming seminar. It is surprising how long it actually takes to explain everything while grooming a newf. We started at 5.30PM and finished at about 9.30PM after explaining the grooming and watching the owners trim two and a quarter of newfs. The quarter of a newf was Orka who we finished up after the session in about twenty minutes in flashlight – light in the darkness (the garage light wouldn't turn on). We were scared to meet him the next day after a flashlight trim, but luckily he turned out better than just good: absolutely fabulous. Bettina sure knows how to trim one of our dogs!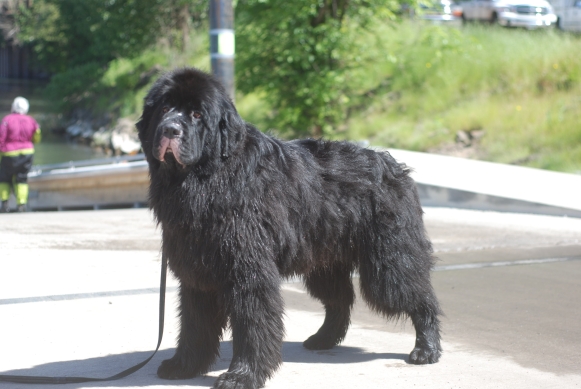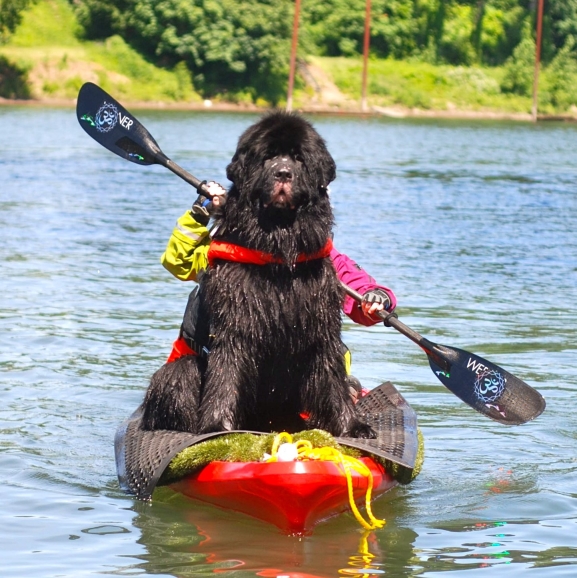 Friday morning we headed for a kayaking trip to see the Willamatte Falls. The guide was great and surprisingly neither Annina or Bettina got wet during the kayaking trip (apart from the drops sliding down from the paddles on their lap…). It was great to see Orka in his element: King of the Kayak. Almost all the fishermen on their boats took their phones out to film Orka on the kayak.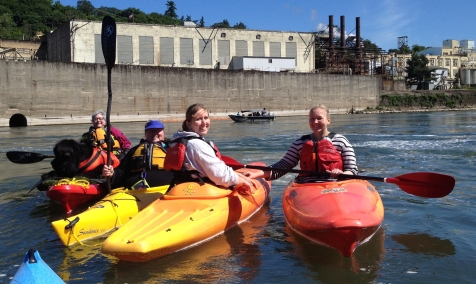 Leska & Orka, Lynn, Bettina & Annina
Friday afternoon was a scheduled visit to meet Judi & Ellis & their newfs. There's not much I can write here about it other than it was fabulous :-). We thoroughly enjoyed meeting like-minded newf people, going through filing systems, getting to go through all the dogs and seeing Judi train one of the pups & his owner in their training hall barn. Fabulous visit that got us home after dark!
Saturday & Sunday were the planned water rescue camp training days. The furthers participants came from about 4 hours away in Washington, the closest ones (who we had already met previously) were locals from about 15 minutes away. The ages varied from a participating six months up to an auditing ten year-old. Everyone were beginners in the water, which was great as we were able to cover the basics (with some variety) on Saturday and get some more variety by bringing the kayak (instead of a row boat) to the trainings on Sunday. All feedback from all participants was very positive indeed, with definite recommendations to participate again next time we come along, which is always great to hear :-). Extending the invitation to participate at the Monday evening trainings was taken with eagerness, and so we saw many familiar faces come to our trainings again and again :-). A few interesting points on the trainings: we train the people, not the dogs. We want the people to be involved in the water rather than always sending the dogs alone. We train exercises in different directions so that the dog isn't always heading to shore. The more distractions the better, although with beginners the distractions must be further away.
Monday morning we headed to Orka's house to go through the drafting equipment and make sure it all fitted him perfectly. The harness was very unlike ours, but with careful adjusting we finally got it to fit him Perfectly. After seeing how many straps and nuts & bolts there were to adjust to get it to fit him, Leska promised to never ever ever lend it anyone :-D! After adjusting the harness we asked Leska if there was anything else for us to go through. She replied, with caution: the drier he hates it and bolts whenever the nozzle comes even close. We decided to try it and teach Orka to be OK with it. We put Orka on the grooming table, took the drier out, mentally prepared for a bolt (like some newbies do). Turned the first motor on and…. Nothing. Orka did not flinch, did not move. He was Perfect. Turned the second motor on and… nothing. Oh the fun we had with Leska "drying" Orka without any problems :-). Jokingly we called ourselves the dog whisperers!
Orka was still tired from the weekend, so we decided to leave him home while we took Leska with us to explore Multnomah Falls, the Gorge, the Rose Garden and finally for a five minute visit to the Oregon Zoo. The zoo impressed us both so much that we decided to go back on Wednesday, this time with Orka as Leska's service dog. That would allow us to see how Orka actually works in his service harness, but also to train Leska on how to read Orka and react before he does. After the quick zoo visit we headed to let Orka out for a two-minute-pee and then to the water rescue trainings. The trainings went great with us being able to vary the trainings even further. We also had the opportunity to train some little, but important things on land: contact, recalls and stays. What most amazed us (and probably everyone else also) was the use of a coke can filled with rocks to stop Ben from jumping up at people. Getting the timing right with the first jump, we only used it another two times and he was "cured". He wouldn't jump up on people even if they invited him to do so, and wouldn't jump up on new people at the parking lot even when we were packing away. It was great to have seen such success, although of course knowing that it must be occasionally continued to keep him reminded that jumping isn't good.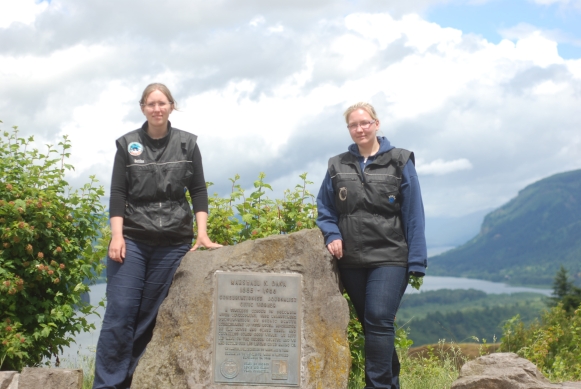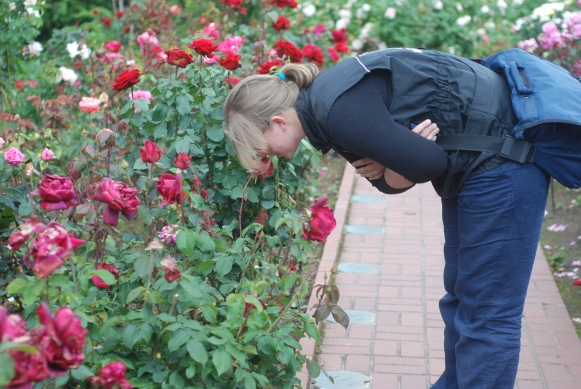 Bettina & Annina at the gorgeous Gorge - Bettina sniffing the roses in the Rose Garden (actually Annina making Bettina pose for the photo!)
Tuesday morning we had planned a visit to Pawsaquatic hydrotherapy center. We had the opportunity of talking with Diane and seeing how her systems work. It was a fabulous place (definitely much bigger and better than in photos), which we would definitely go to during the winter times if we only lived closer. We watched a free swim where the handler swam with her own dog, and we had the opportunity of meeting a regular client (a golden with severe joint problems and vestigial front limb). It was very interesting to talk to the owner about how much hydrotherapy (and acupuncture) have changed the dogs' life: he wouldn' t be here without them.
Tuesday afternoon after the visit we headed to Judi and Ellis for another fabulous afternoon. We had the opportunity of watching Judi and her friend train their dogs – and just talk and talk about other things. What we found was that we were too comfortable and trusting and found ourselves listening more than talking. We were absolutely glad to have been able to see all the dogs again and maybe hopefully plan something in the future with them.
Wednesday was the zoo trip with Orka and Leska: finally an opportunity for us to see it with our own eyes how well Orka really works with her. It was absolutely amazing to watch how Orka, in his service harness, became a different dog that doesn't react to anything: people or dogs. He seems to know that he really is working and must behave extremely well: and so he did. He ignored most of the animals (although being curious to sniff the air for some): giraffes, elephants, monkeys, polar bears, sea lions, wolves, bats etc. The only animals he was startled by were the gigantic porcupines (which he quickly realized were OK and wasn't phased by after the initial startle) and the orangutangs which managed to sneak up on him right by the glass window. They are big animals that move effortlessly (quietly). After the initial few warning sounds Orka quickly realized there was nothing to warn about and resumed his "working" attitude. Wednesday after the zoo we headed for lunch and then back to Orka's home to go through some rally signs with Leska & Lynn: something they are very keen on learning to do with Orka. The final "goodbyes" were said and we headed to the hotel to pack.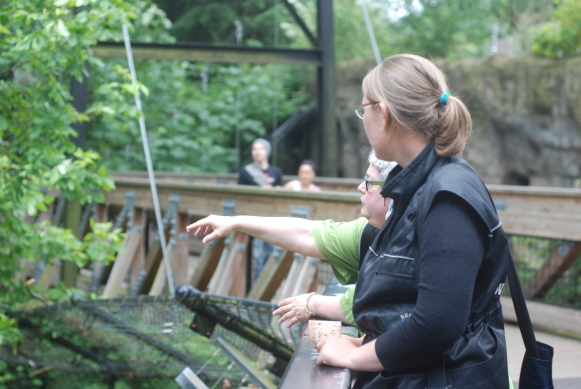 Leska showing Bettina the bears - Orka & Leska & the guide for the day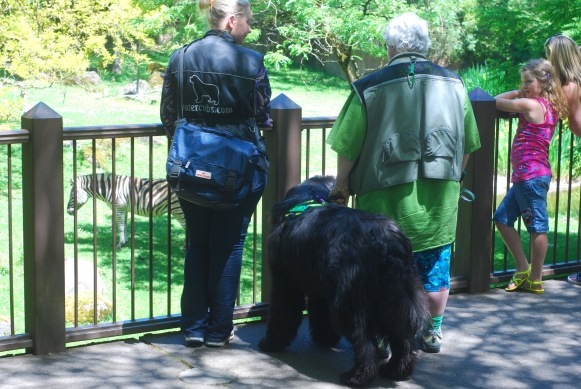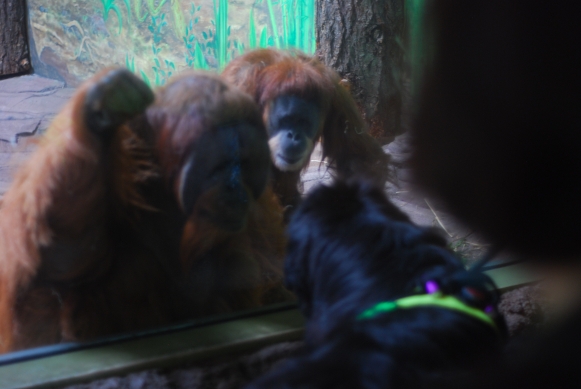 Annina & Leska & Orka looking at the zebras- Orka curious about the orangutangs
We had planned a trip to see the coast on Thursday early morning before the flight from Seattle to Chicago, but after pressing the "snooze" a dozen times and still not being able to wake up, we decided that the seaside would still be there the next time we head to Oregon. A late morning, waking up at 9AM got us to Seattle well in time for returning the rental car and then heading to the airport for the luggage check-in & weighing. We had packed Bettina's larger bags to contain all the big and light stuff, whereas Annina's to contain the heavy small stuff. Packing it this way it was easy to figure out what to move into which bag depending on the bag weights. Annina had to carry the Washbar shampoos as hand luggage, and funny story: Annina was stopped at the security check-in, the staff thinking she was carrying a "weird smelling bomb". After many, many (interesting!) checks, they let Annina pass through to board the flight. Lesson learned: do not carry soap bars in your hand luggage ;-)! Luckily we had the packaging and fliers next to the bars for showing what they were.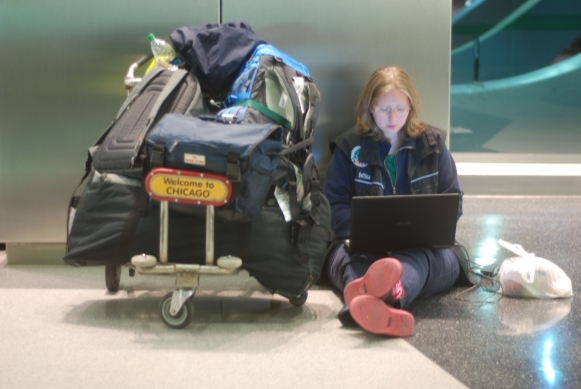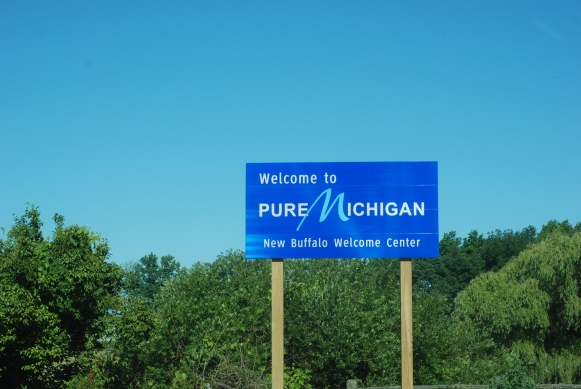 Bettina at the Chicago airport with the luggage & Welcome to Michigan
The flight with Alaskan Airlines from Seattle to Chicago only took a few hours, getting us to Chicaco (Illinois: another state to add to our conquests!) for midnight. Being cheapskates we had decided not to book hotel for the few hours so we had the time to go through the photos and write the beginning of this recap story. A few Starbucks frappuccinos and caramel machiatos later we headed to the rental car facility to pick up a car and head to our next hotel in Elkhart, Indiana. We drove from Chicago past some coastal towns and then through to Michigan, past the weekends waterwork area. The roadsides were full of very interesting sign posts and road names of which Annina kept taking photos of. We tried doing a roadkill count, but getting to already seven roadkills (on our side of the road) in a minute was enough for us to be able to reliably say that there were lots!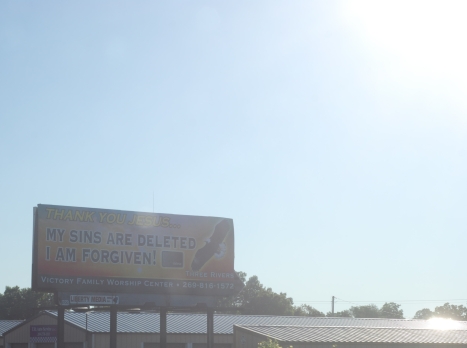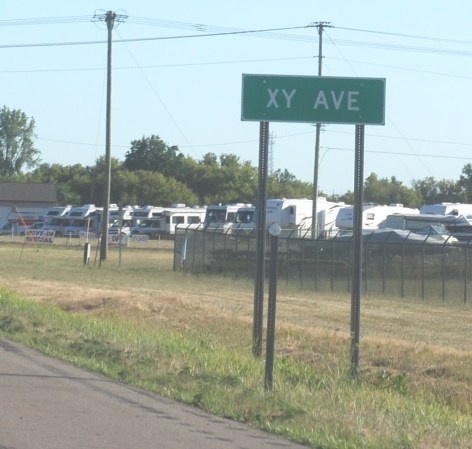 Road signs and road names
Getting to the Super 8 in Elkhart in the early afternoon was definitely a relief. Annina took a long nap before the proper nights sleep, while Bettina persisted to stay awake (by getting a sugar high from all the cookies and candy we had bought from the store) went to bed at a respectable 6PM only to sleep for the next 12 hours (and still wanting more sleep!).
Saturday was an early morning to start waterwork at the South Central Newfoundland Club's private pond only 20-ish minutes from the hotel. We were especially looking forward to the Saturday as we'd get to see our one-year-old puppy Chewbacca (K. Rapakontaa) again :-). He was pretty much just as we had imagined: a young well-built dog that was promising in the water. From talking with his owner, it was confirmed that he was the perfect fit for them. He is and was an extremely confident and curious young boy, with which it'll be easy to do quite a lot in the future :-).
There was quite a variety in the dogs at the camp, which was great as we were able to cover different things with different dogs. With the more advanced dogs we were able to do what we would have done with our own dogs, whereas with the beginners we were just building the enthusiasm to enter the water. On Saturday we did again the basics with variety and Sunday building on the basics with distractions and variety from the traditional ways of placing things in the water. Saturday night we headed for dinner at the local Applebees (Annina's choice!). The food was amazing! Some other restaurant chains we did get to try: MacDonalds (the drink sizes were Huge: our large is their medium), Red Robin (amazing!), Sweet Tomatoes (amazingly good!), Subway (not really) and some local pizza places (huge portions).
Monday we had scheduled a visit with a local Michigan breeder in the morning (her dogs were pretty much structurally exactly what we're looking for), a visit with Sarah Moon (from the camp) & her dogs and then visiting several Darbydales and Topshelf dogs in the evening. It was a very interesting day to say the least: a wide variety of newfs from one end of the scale to the other!

On one of the MacDonalds stops to get some more coffee we had a fabulous encounter. An Aflac representative came to talk to us to find our more what our "watercubs" was, hopefully getting us a lead for future sponsorship, and a man queuing behind us asked about "watercubs". After explaining that we train water rescue dogs, he mentioned that he has just yesterday watched a program like that on TV. Bettina asked him if it was Animal Planet, because if it was, it might have well been her and our newfs. His reply of yes was pretty amazing: he was speechless after that: actually meeting someone from the TV show he had watched a few days earlier :-). That put a smile on our face for the rest of the day!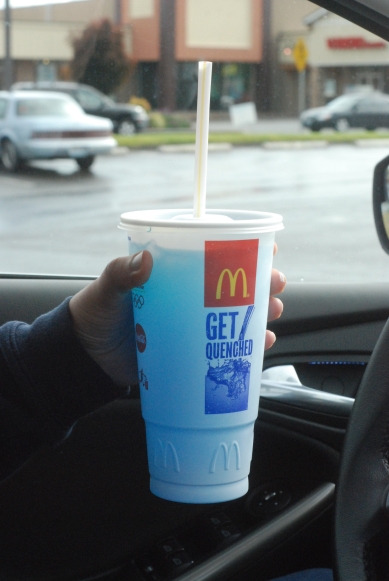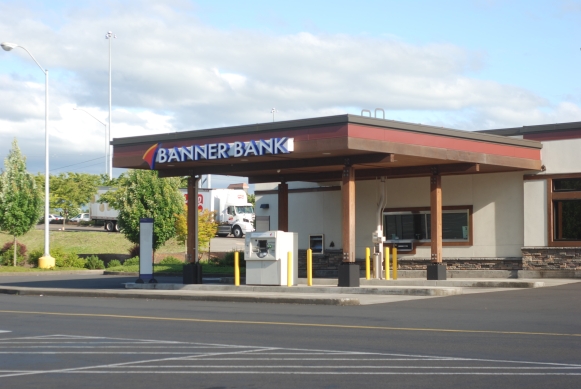 Huge blue drink, only for a dollar (plus taxes) - Drive thru bank

Monday night we returned the rental car. Tuesday was just sleeping, sleeping, sleeping at the Rodeway airport hotel. Neither of us got out of bed for the entire day (apart from getting breakfast, coffee, take out, coffee & using the bathroom & getting more coffee). It was a Proper Holiday Day for us Finally. We went through photos, replied to emails and finally were on the computer at a decent time to call home. Packing everything to fit the bags went surprisingly smoothly (after having spread everything out in the room and separating them into "Annina must take home" and "Bettina must take home" - piles).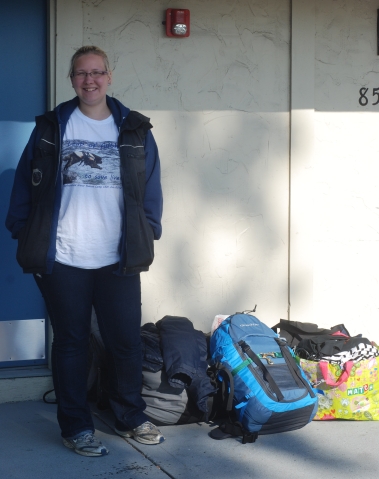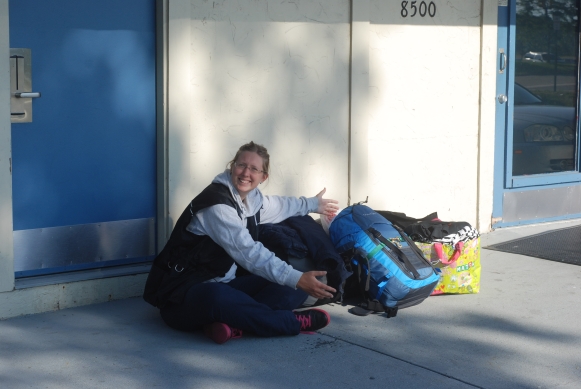 Annina with our stuff, Bettina with our stuff
Wednesday was finally the day of Return. Getting the shuttle bus and weighing the bags again to make sure they weren't over the 23kg limit. After that it was a "goodbye see you in August" and Annina headed through the security checks to board her flight, while Bettina headed to the next terminal to open her computer and start writing this story while waiting her flight to Brussels via Paris. Finally back to home and back to our dogs! I cannot wait to get to them and just enjoy working our OWN dogs again :-). Flying away really makes us appreciate our own dogs even more, although we do hope to fly them out with us next year when we head that way again, maybe…
Bettina & Annina