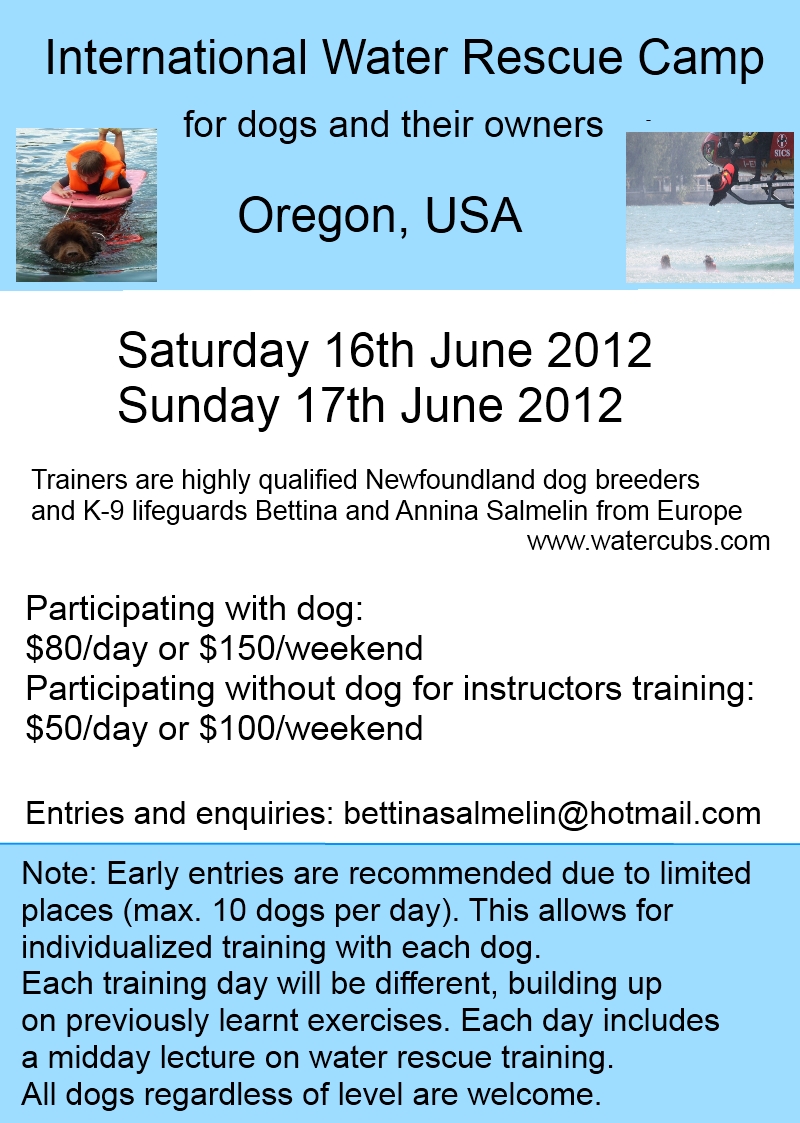 The trainers are Bettina and Annina Salmelin.

The timetables:
Saturday 16th June 2012
8.30-08.45 Welcome talk and entries
08.45-09 Changing into clothes and heading to beach
09-12 Waterwork
Group 1: 09-10.30
Group 2: 10.30-12
Lunch & 13-14 Waterwork lecture/talk
Group 1: 15-16.30
Group 2: 16.30-18
Sunday 17th June 2012
08.45-09 Changing into clothes and heading to beach
09-12 Waterwork
Group 1: 09-10.30
Group 2: 10.30-12
Lunch
13-14 Waterwork lecture/talk
Group 1: 15-16.30
Group 2: 16.30-18
We are aiming to start at 9am in the water, so please prepare to come in early to have enough time to change and prepare yourselves for the water in the morning.
The trainings will be held in two smaller groups (groups announced in the mornings) so that we can keep a quick pace to the trainings and ensure individualized training and attention to all participants. We aim to cover between 7-10 exercises during each training session. Please feel free come to the beach to follow the other group while you are not training, but it would be preferable if you left your dogs in the car/crate for that time. Prepare to take a crate with you or leave the car trunk (safely) open with your dogs in for the times when they are not training. It is important for the dogs to be able to relax fully during their brake. Note: maximum two dogs per handler. All breeds may participate as long as they enjoy the water, are large enough (e.g. labrador size) and are sociable to other dogs and people.
The trainings include the basics for beginners and more advanced exercises for the advanced dogs. The dogs' levels will be evaluated as we progress during the days to make sure that the trainings are stimulating for both the owner and the dog. Our trainings do not focus specifically on training for competition work, however most of the exercises will have many components that are extremely useful and novel for training the exercises. The focus of the trainings will be to bring enthusiasm into the trainings, bullet proof the exercises and introduce some of the aspects of real lifesaving into the training of dogs for the water.

Recommended equipment:
- a non-slippery lead and a normal collar
- waterwork harness (if you have one)
- wetsuit or a drysuit (it is highly recommended for you to get one if possible)
- bumpers, dummies or floating toys that your dog likes
- life jacket (for you and/or the dog)
- a comfortable blanket for the dog to sleep on in the crate/car
- water, water bowl, food and a food bowl
- treats
- shoes for the water
- warm clothes to change into during the midday break
- a positive attitude
You do not need any extra cash for the training days, but we will try to get some local (warm) food during the lunch break, for a reasonable price.
Please let us know in the morning of the camp if you are interested in joining for this.
Driving instructions & camping ground information:
Northern Oregon / Southern Washington area.

Provisionally Portland, Oregon.
(please let us know where you are coming from,
we will try to find a central area to everyone)

(exact driving instructions will be provided with invitation letter sent to participants at the beginning of June)
Contact email:

bettinasalmelin@hotmail.com
Information about the trainers:
Bettina and Annina Salmelin started with Newfoundlands in 2003 by importing a Newfoundland bitch puppy from Finland to Belgium. They started showing at conformation, obedience and water rescue later that same year, and to date have successfully shown and competed in conformation, water rescue, obedience, rally obedience and draft work in 14 countries all around Europe. Bettina and Annina have organized grooming days and international water rescue camps in Finland. Bettina has trained and lectured at water rescue camps in Finland, Estonia and New Zealand. Bettina and Annina have judged at obedience tests in the United Kingdom and are qualified UK Kennel Club obedience judges, and an APDT (Association for Pet Dog Trainers) rally obedience judges since 2011. Bettina has been an active member of the Finnish Newfoundland dog club's health committee since 2008.
Bettina and Annina started breeding Newfoundlands especially for their working qualities in 2005 under the prefix Kivisilmän (www.watercubs.com). Working extensively and intensively with their own dogs, they have produced dogs that are being trained as official K-9 lifeguards, service - and therapy dogs. Some of their dogs are being shown successfully at conformation and others live with other breeders. Their dogs are sourced for their working qualities and have been exported to USA, Belgium, Finland, France, Germany and Italy.
Bettina's special interest for water rescue has allowed her to performed helicopter water rescues with two of her own-bred dogs with the Italian Water Rescue Dog School (SICS) in 2010 and complete the Belgian Lifesaving Federation certification for an official K-9 lifeguard team with two of her Newfoundlands in 2011. Bettina is currently working her Newfoundlands in the United Kingdom whilst pursuing a university degree in veterinary studies. Annina has completed a Biology Masters degree in the UK.
Their dogs have received a lot of media attention all around the world. They have been filmed for the National Geographic "And Man Created Dog" television program, Animal Planet "Extraordinary Dogs" series, and for several news casts, along with features in several newspaper articles and dog magazines. Bettina's research articles have been published in several dog magazines and books since 2006. In 2009 she co-wrote a Newfoundland breed book in Finnish with M. Mantyla. The Newfoundland working structure & anatomy, and water rescue training - book by Annina and Bettina Salmelin is expected to be printed in English from summer 2012.



(Remember to book a place BEFORE sending the entry form and payment!)

ENTRY FORM for 2012 Water Rescue Camp Oregon
Entry form for day: __________________________________________
Breed: ____________________________________________________
Dog's name and date of birth: _________________________________
Swimming ability: Good/Poor/Do not know
Has been on boat: Yes/No
Has trained in a waterwork group: Yes, a lot / Yes, some/ No, not at all
Things to take into account in trainings (e.g. health issues):
__________________________________________________________


What do you want to train in particular (e.g. problem areas in trainings?):

___________________________________________________________
Owner/ Handler information:
Handler: _________________________
Helper(s):________________________
Email:___________________________
Address:_________________________
Phone number:____________________
Preferred contact method: email / phone / post


PAYMENT: Paypal to email address: s1105549@sms.ed.ac.uk
$100 day or $150 weekend (with dog)
$50/day or $100/weekend (without dog)
Note: no entries will be accepted until full payment.


Please return the filled entry form to: bettinasalmelin@hotmail.com